The winning Jerry poems
It has been extremely difficult to choose the winners of this giveaway competition. It was so difficult that I've decided to give up further book vouchers so that I could award further prizes. It's book voucher season!
Unfortunately Jerry was unmoved by any of these poems, even those that were particularly complimentary to him. So I took decision-making matters into my own hands. I want to stress that this was VERY DIFFICULT, AS ALL OF THE POEMS ARE VERY GOOD. Everyone who contributed just really got Jerry, and I was not expecting that.
A $40 voucher goes to Jacqui Hammond.
I'd like to award Eamonn Marra the VicBooks voucher for $45.00.
And Rochelle Savage a $40 voucher.
And Rebecca Hawkes a $40 voucher.
A $50 voucher goes to Mae (5) and her big sister Jean (7) for their poems.
The $100 voucher goes to Grisham Langston.
Thank you to everyone who wrote poems. They are all, without exception, a total delight and some of them are unexpectedly moving. I will probably make this an annual thing, book voucher situation depending. And fingers crossed *somebody* doesn't get hit by a car or stuck in someone's garage.
Here are all of the winning Jerry poems.
JERRY POEM
Ko Jerry tōku ingoa (My name is Jerry) Kei te ngenge ahau (I am weary) Kei te tuahuru ahau (I am hairy)
—Rochelle Savage
JERRY POEM
Ballerina slippers, a forest axe This time a velvet suit I see you from the shore, Jerry, you've marched this earth before.
—Jacqui Hammond
JERRY POEM
Once upon a time there was a cat named Jerry Who rode his bike everywhere And his tail was stripy.
—Mae (5)
JERRY POEM
Once there was a cat named Jerry, Who lived in a house on a hill, His owner's name was Ashleigh and he wanted to go to school.
—Jean (7)
JERRY POEM
thys jerrye boye he'm flex hys toes an crinkle up hys little noes for wen ye pet, hys purr doth groe
—Rebecca Hawkes
JERRY POEM
Jerry is twelve feet tall, which is big for a cat, and carries Ashleigh to work everyday then takes a nap by the heater
—Eamonn Marra
JERRY POEM
Hairy Jerry soft and fat. Wary Jerry, don't eat that! Cheery Jerry wondrous cat.
—Grisham Langston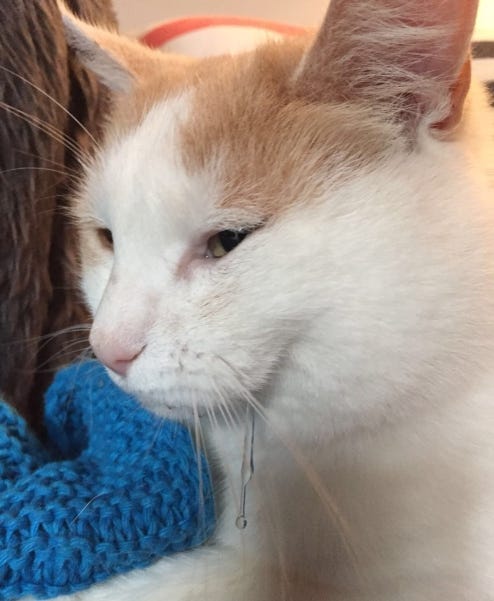 The Dribble of Appreciation