The difficult second cover
A few years back I wrote about what I wanted for the cover of my first book. I ended up with more than I could ever have hoped for: a skull floating in a sky, with dogs (copulating, if you look closely) in one eyehole, trees in the other, and whales floating around. It was beautiful. My friend Rowan Heap drew it. He also illustrated the cover of a first poetry collection by Morgan Bach last year; it's also beautiful. In a review of Morgan's book on the radio, Kim Hill said she didn't like it. Rowan was driving along with his radio on when he heard her say emphatically 'I hate the cover!' and he was so disconcerted he had to pull over to the side of the road for a while to get his bearings.
Well, for my second book, I asked Elliot Elam to draw me a picture, though I didn't know what the picture should be. Elliot's an illustrator who lives in London. I met him a few years back, after I wrote on this blog about his drawings of people on buses and trains – drawings which are still some of my favourite drawings of people – and he's since become a good friend. After a lull he's started drawing people on public transport again. You can see some on his blog. Each figure is so different from the last – their clothes, their facial expression, the sort of day it looks like they've had – but what they have in common is that we see very little of their immediate surroundings. Elliot's people look suspended; they seem to hover, the seat beneath them an abbreviation. They're not in place. There's a feeling of haste about it, too – the artist scratching an impression (in Elliot's case a sharp impression) as he's rocketed along towards somewhere else. Maybe more importantly, a stranger is picked out of the anonymous crowd and made knowable. Without getting too lofty... in a way that's what I wanted to do with this book of essays: attempt an impression of things that otherwise would have rushed by.
Even though the title of the book (Can You Tolerate This?) is kind of confrontational, the sort of thing a psychologist would ask you while administering a series of increasingly painful electric shocks, I wanted to avoid an image that plainly signified urgency or panic or a loss of control. The book draws on all of those states in one way or another, but the cover had to be unexpected. I didn't want anyone holding their head and screaming, or anything. So I started throwing around a few ideas. Some of the ideas that I considered and discarded include 'sweatband on a big sweaty forehead', 'pair of folded arms; arms are extremely hairy'; 'back view of a pilot sitting at the controls; pilot's neck is clearly tensed, muscles/sinew protruding', 'person in Balancing Stick posture, about to fall over'. I concede that all of these seem very bad but I maintain that any of them could have been good.
Finally I realised what had to be on the cover. One of the pieces is about my brother JP, and an important part of that piece is a red bomber jacket that he used to wear, which became known as Big Red. There are no photographs of Big Red. At least, not that any of us have found. But I do remember the jacket well. I remember its colour, its feel, its smell. A drawing of Big Red – rendered from my description of my memory, with all its own inaccuracies, fed through someone else's head and filtered onto a page – was the right thing to be on the cover. And, because there is a scene in which I imagine the jacket sailing through the air, it also needed to be flying, or perhaps flailing. (All of my book covers must have a picture of an airborne object. They don't; I made that up. But... it's a rule from now on.)
So we started figuring out how it would go.
Below is a little progression of ideas.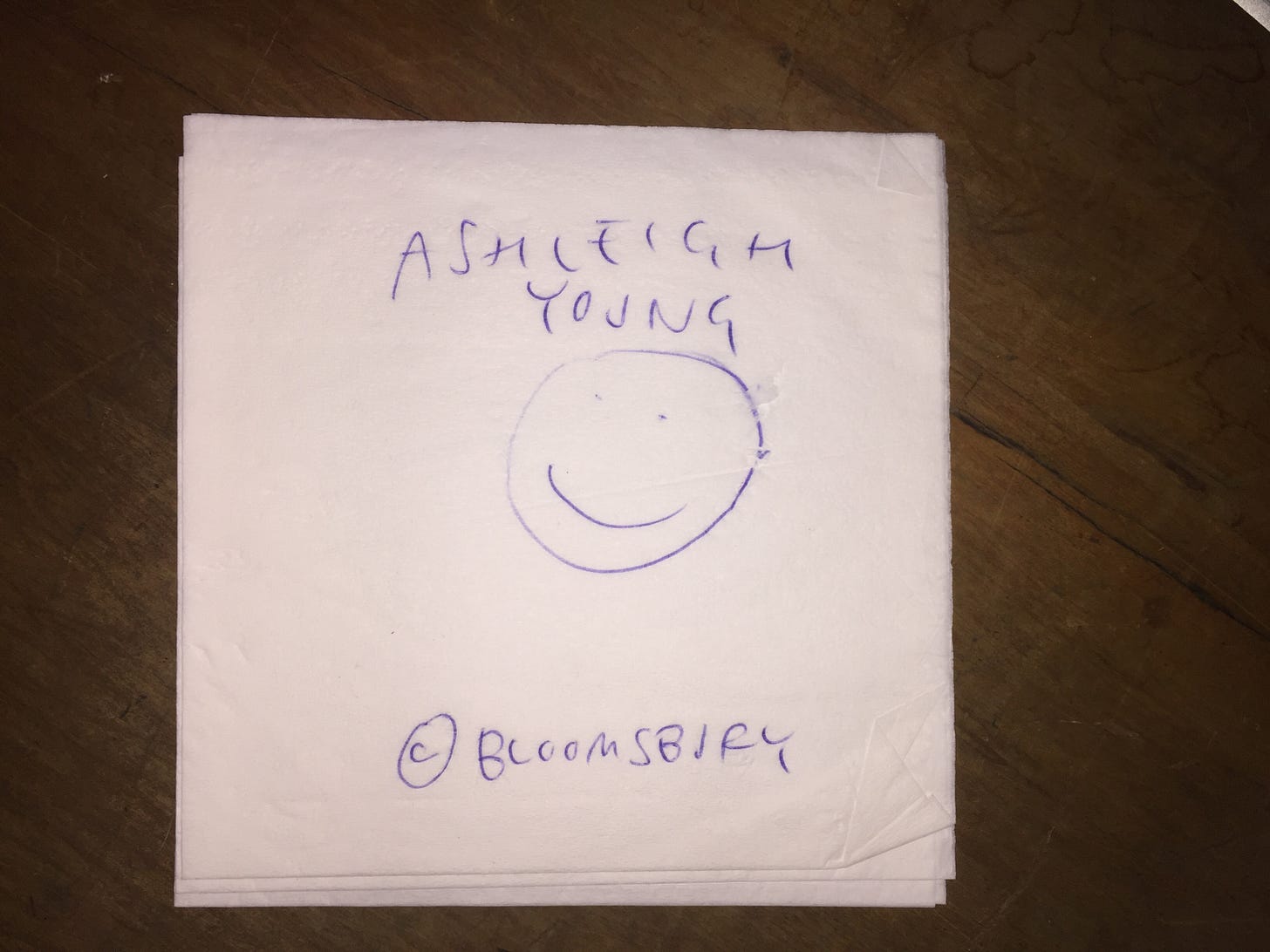 This is a napkin that Elliot drew on in a pub in Clerkenwell when I was last in London. ('© Bloomsbury' is a hilarious joke, by the way. My book is not being picked up by Bloomsbury.)
Next I sent Elliot a few terrible stock photos that were in the basic vicinity of the jacket. I'd said that the jacket had to be aloft in some way.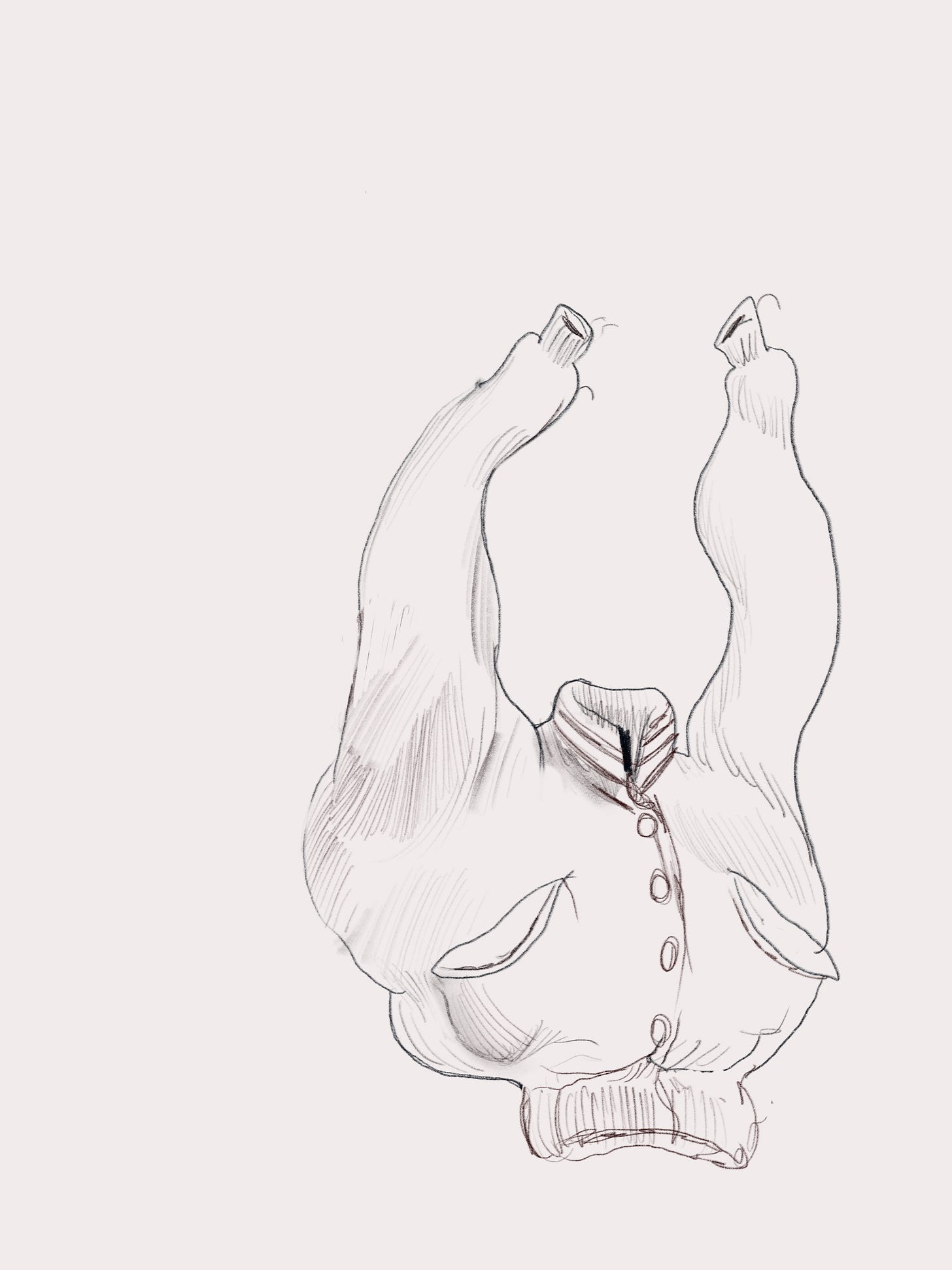 This was promising. There are more ambitious things going on in the following (with a different title due to momentary lapse in translation):
[wpvideo HEVSsCEn]
'I like it but it must be flying,' I said to Elliot.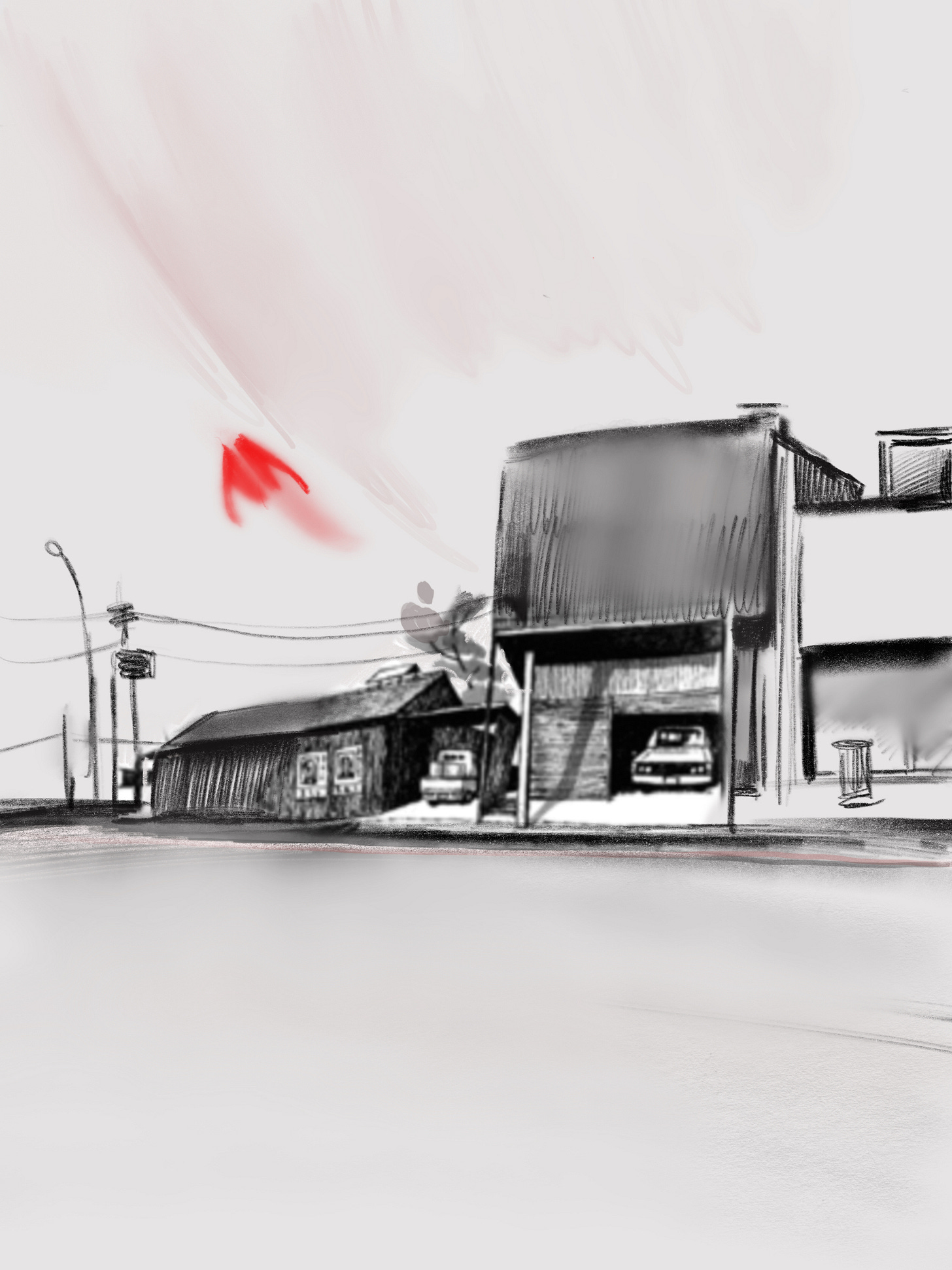 I liked this scene a lot. But I wondered if the jetpack-like red jacket in the image above had too much volition and decisiveness. A lot of the pieces in the book were more about uncertainty, that razor edge in perception between floundering and flying, drowning and waving. So, we went back to the previous option.
It had to be caught in a storm, I decided.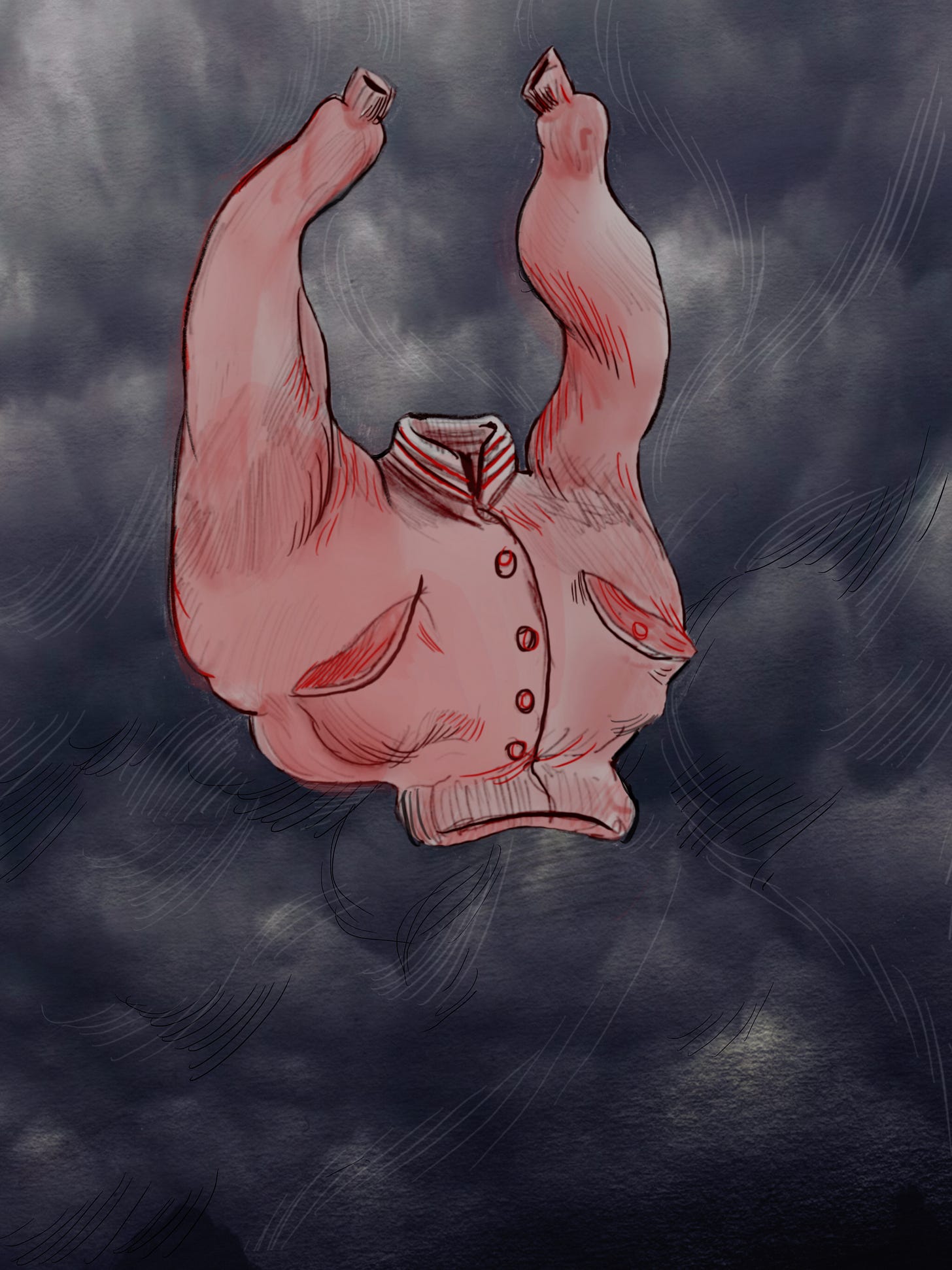 I liked how you couldn't tell whether it was rising or falling, whether it had just been caught off guard right then or if it was drawing itself up against the wind.
Finally there had to be trees and leaves (and words). I sent Elliot some old photographs from the house where I grew up where you could see trees in the background. Like your classic difficult author, fixating on tiny details, I made a massive pain of myself, going on and on and on about leaves. In the end I was really happy with the leaves. And with the whole thing. It's an image I find both strangely funny and a bit sad. And for some reason I imagine the jacket making a melancholic wheezing 'hooooooo' sound.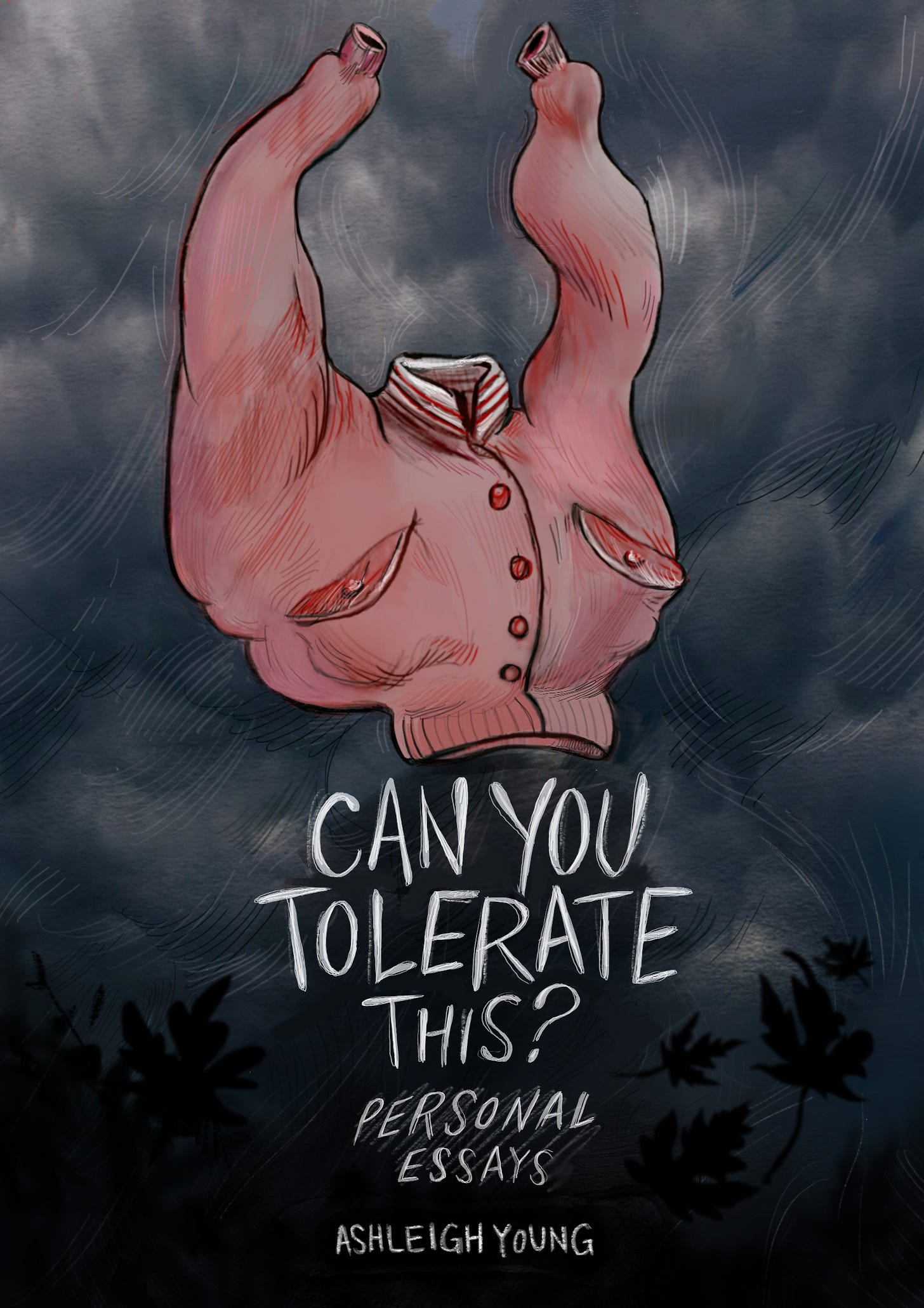 Here's the full thing, with the blurb, on the VUP website.
I'm still not sure what to say when someone asks what this book is about. I'll need to come up with something soon. No matter how much anyone tries to fight it, people want to know what things are about. I do know that it's an odd book; I didn't know how else to write it. It leaps from subject to subject and its point of view skates around. I'd like to say that this skating was finely choreographed, but often it felt uncontrolled, on the verge of face-planting. And now, even though it's the exact same crisis that I've tried to help authors through when getting their books ready to send out into the world, I'm overthinking things and feeling convinced that the book fails on every count. But that's all part of the great publishing process. I know the feeling will pass, giving way to the soothing, almost feverish optimism of thinking about the next one.