Holding note
I'm trying to finish writing a very odd book. Which is why I haven't posted here in a while. I feel a bit nervous around this blog now. It's like standing behind a horse. It's either going to kick me in the arm or wander off into the internet looking for better people. Well anyway. Here are some paintings by Noel McKenna which I came across yesterday at work, when we were thinking about a cover image for a book of poetry. One of the things I love about Noel's work is the strong animal contingent. There are numerous dogs, horses, cats, and they all tend to look slightly wonky, out of sorts, as if in the grips of an inner struggle, perhaps enduring a moment of existential dread.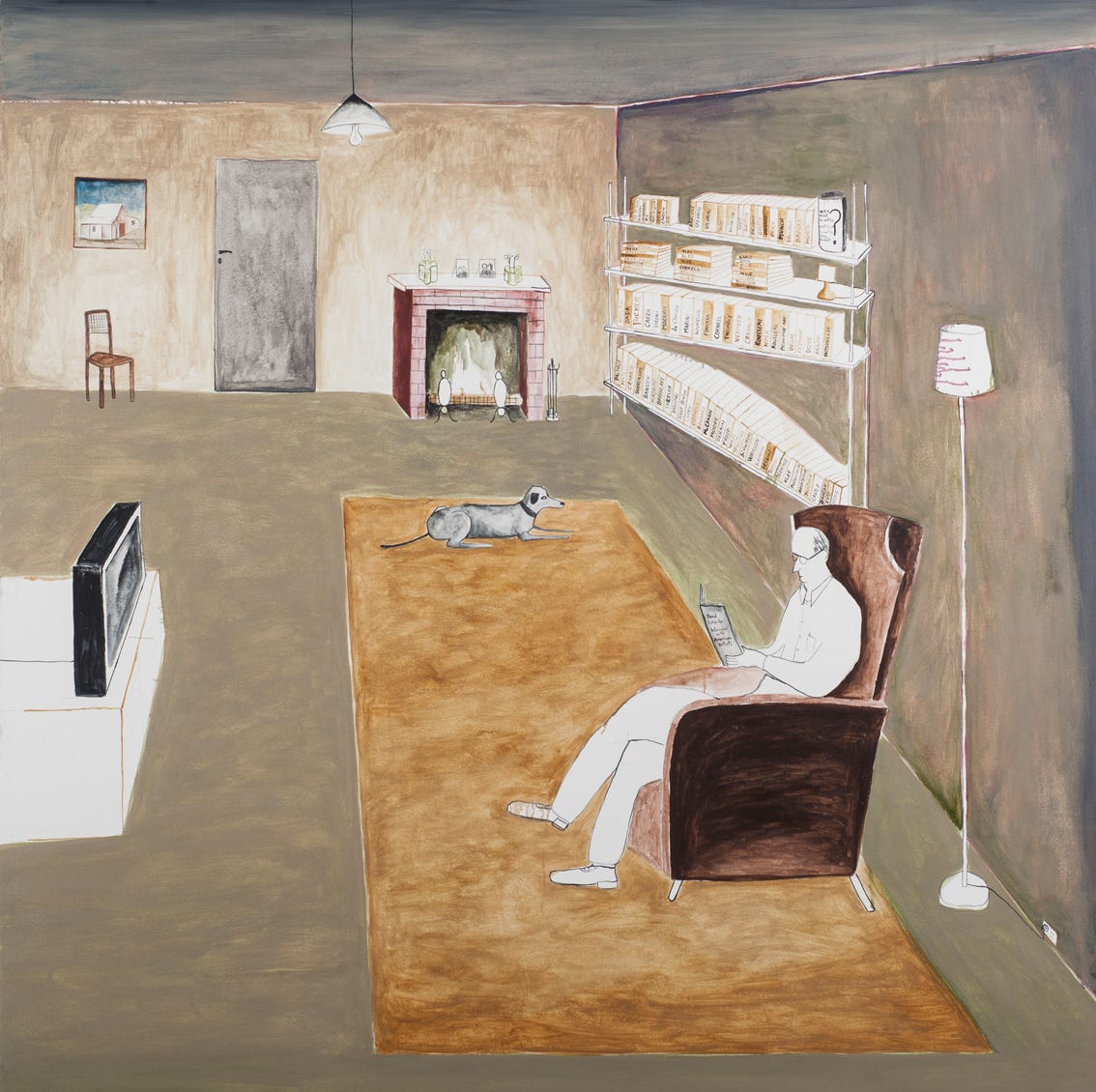 Quiet Room, 2013, via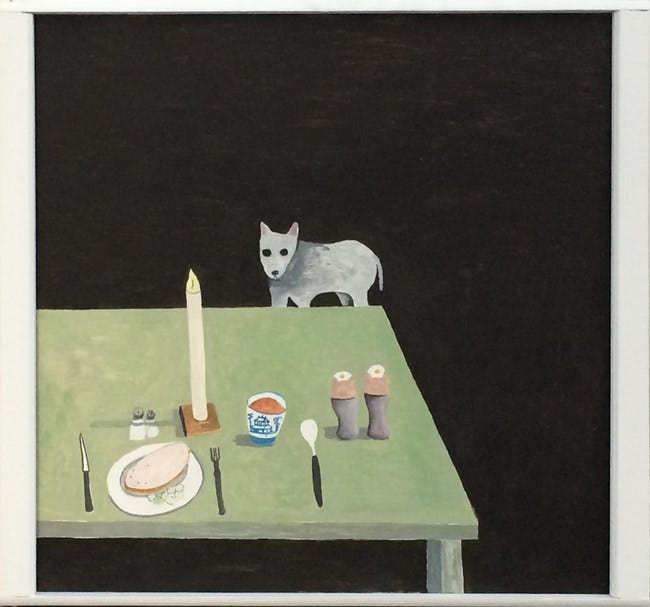 Food on Table, Dog Begging, 2015, via
Cat in Kitchen, 2013, via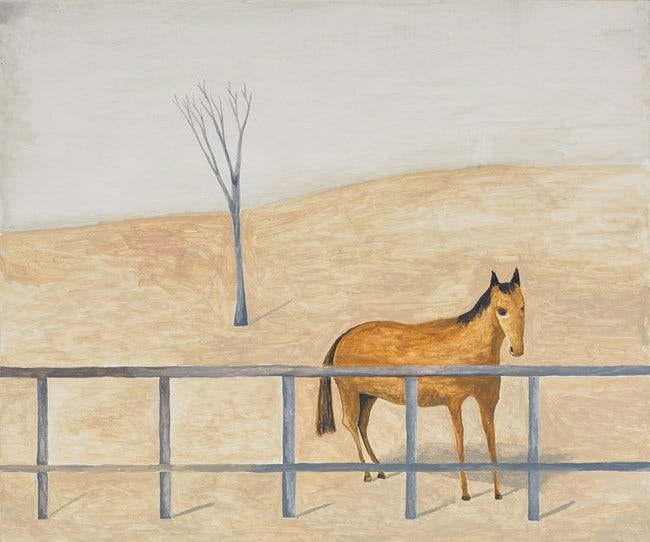 Horse Behind Fence, 2015, via
I met Noel late last year when we went to Futuna Chapel in Karori, with Greg O'Brien and Pip Adam. Greg is putting together a book about the history and architecture of the chapel, and wanted Pip and me to each write something for it, and Noel happened to be there too, visiting from Sydney. So we wandered around in the chapel, all of us quiet (except for Greg, our tour guide). Noel took photos and looked at everything very carefully. He had a quietness that I imagine I can see in his paintings. I tried to feel inspired by the chapel, or to notice something there that moved me, but I didn't much, which is what nearly always happens when I look at beautiful things that I'm supposed to find beautiful in the company of others; I try to get a hold on everything so that I can get the good stuff, but it's like trying to open a jar with oily hands while being watched by someone stronger. After our visit, Pip wrote a fantastic short-short story about the chapel, which went into the book. And I ... didn't get around to writing anything at all. I still feel guilty about this. I felt like I couldn't write, because I was feeling frantic and stressed, and also I kept putting my shoulder out. Those are excuses that writers use all the time, though.
The thing that did really interest me a lot about Futuna was the story of its life-sized mahogany Christ figure, which was stolen from the crucifix on the wall in the year 2000 (or possibly the year before; at this time the chapel was standing empty). The thieves would have needed to use ladders to get it off the wall, and must have had a vehicle waiting outside to cart it off, so it's likely to have been premeditated. Twelve years later the statue was discovered in a milking shed in Ahititi in Taranaki. It had just a few scratches and a broken finger and its crown of thorns was missing. 'I think with a good clean he's going to be all right,' the figure's sculptor, Jim Allen, said. The figure was triumphantly returned to the chapel and crowned with new thorns.
I'd thought about writing about other significant objects that have been stolen around New Zealand. Things like the Jesus, Mary and Joseph figures that were stolen from a nativity scene in Waipu a couple of years ago. The giant bronze eel that was stolen from Auckland Botanical Gardens and discovered in a scrap metal yard with fins and tail missing. The Ronald McDonald that was stolen from a McDonalds in Whanganui in the early 2000s. I know the thieves of that one. They just kept the Ronald in a closet for about nine months, until a police officer knocked on the door. What would it take to steal something like that? What kind of recklessness? What is it in the human brain that makes us want to possess giant objects?
At the gym yesterday, when I was on the ground grappling with a medicine ball, a trainer guy almost screamed at me, 'DID YOU MAKE ANY RESOLUTIONS.' I sat up and said 'No.' This seemed to agitate the trainer, but I felt good that I'd been honest. I don't believe in resolutions (not for myself), but there are things I would like to do. I would like to write more often than just thinking about writing. Looking at Noel's paintings I was reminded that it's possible to make something out of the very moment of thinking, not just the moment when the thinking's 'done', when the idea's been had. The most static-seeming moment exists on some kind of threshold; something not happening can be something about to happen. This idea, though vague, excited me. I will also get better at opening jars.