Everything will be alright, there's really nothing to worry about too much
It's always uncomfortable when people talk about their favourite bands and you don't like their bands, or can't be bothered to listen to yet another thing that people say you should listen to. So maybe this post isn't for you. Maybe it's not for any of us. Anyway – I was listening to Voom's album Now Am I Me while going for a walk last week. Nostalgia via music is predictable, and it wasn't long before I was transported to a warm car on Peachgrove Road in Hamilton, waiting for one of my brothers to come out of his flat so we could drive off into town, listening to 'Lose in the Long Run'.
I thought about the first time I both heard and saw Voom. I was lying on my parents' bed, watching their tiny, ancient TV. A man with curly red hair was flying through a postcard-blue sky. He was wearing red-and-white striped pyjamas. Every so often, his head, like a huge glowing candle, would fill the screen, staring out with liquidy, flowering eyes as he murmured the words. 'When you went to Australia, I promised I would come over ...' I hadn't heard the word 'Australia' in a song before. (I probably haven't since.) At one point in the video, the singer fell into some sort of cave and had an argument with a pair of uniformed officials. At another point, when he was flying again, this time through space, a guitar swam into view and he grabbed it and started playing it. There was also a bit where he looked down at the palm of his hand and his own mouth was on his hand, mouthing the words. On the whole, the man seemed unperturbed by this, and by everything. Words seemed to leave his mouth by their own volition. At the end of the video, he was returned to his band, who turned out to be the officials he'd argued with. Then the little NZ on Air logo bubbled up. That was the true sign I'd seen something weird.
I think it was a few months after I heard that song, 'Beth', that one of my brothers bought the album Now I Am Me, after hearing other songs from it on student radio. This was when all albums became part of the places that we drove through, because we dubbed all our CDs onto cassette tapes for the car. Now I Am Me was the grainy landscape between Te Kuiti and Hamilton, between where me and my parents lived and where my brothers flatted, and it was also driveways where I waited in cars for someone to come out.
The lyrics of Voom songs weren't that clever or strange, or even incoherent, which song lyrics usually had to be in order to seem good. You could hear exactly what the singer was singing. One song was purely a monologue from the point of view of a surfer who had weird lumps all over his body. I figured that the song was meant to be funny – and the guy's accent in the song was like the accent that I heard my brothers and their friends do, in their Hamilton bands – and I liked to imitate the bit where he went: 'I'm not really worried about people kicking sand in my face. I'm just – a little, self-conscious.' Voom lyrics were, on the whole, straightforward. They tended to be things that you could probably say out loud to someone. Even the love songs were made up of ordinary phrases, things that you could imagine muttering. 'I care about you. You know I do.' You could probably say that in a New Zealand accent and it would be alright.
Then there was 'Isn' That Good', which I liked to play over and over, usually while lying on the floor pitying myself (I was 13). It was a song about a man trying to comfort someone.  'You are bleeding now, soon you'll feel all right again. Isn't that good?' It reminded me of Dylan's 'It's Alright, Ma (I'm Only bleeding)'. I liked the sudden force of the man's voice in the chorus. It sounded like he was yelling into a phone. Actually it sounded to me like he was losing it a bit – trying to reassure someone, and then, partway through, realising: Oh my god, we're actually completely fucked. In that chorus he reminded me of an exchange student who stayed with our family for a while, who would make late-night phone calls to his family back home in Brazil, and he would get increasingly upset and end up screaming down the phone. No one in my family expressed emotion in such a way. Maybe this was why I liked songs where the singer spent some time screaming or yelling or otherwise making odd noises – it was cathartic. If I closed my eyes I could almost imagine that it was me screaming or yelling. I particularly liked how, in 'Isn' That Good', you could hear the singer laugh towards the end. Hearing a singer laugh was proof that they were really alive. I loved it, for instance, when Paul snickered in the otherwise horrible song 'Maxwell's Silver Hammer'. It meant that Paul McCartney was real. It might even be possible to be the person to make him laugh.
Voom was one of the last bands that I wasn't able to find out anything about. The internet wasn't really in flight then, and the music magazines I bought didn't have New Zealand stuff in them, except for Crowded House sometimes. I had no posters blu-tacked to the ceiling, no damp grainy pictures I'd printed out. And I had never seen Voom play (... and still haven't). So apart from that one mysterious video, they held no persistent imagery for me. There was nothing but the songs with which to feed my love of Voom. I wonder if because of this, the songs became bigger to me and occupied more space in my guts.
It was a long time before Voom's second album, Hello, Are You There?, came out. Even though years had passed, the new album immediately touched all those old nerves, and I loved it intensely. Again, there were the lyrics that seemed like someone talking basic sense ('There's really nothing to worry about too much'), even though the person was clearly messed up in a few ways ('You had it made, you had it all; but then you lost it and you're just so goddamn pitiful now'). I listened to the album a lot while walking around leaking from the eyes. I had broken up with my boyfriend and had decided it was a bad mistake, the defining mistake of my life. Voom was the only band I could listen to, the only band that seemed to give me permission to feel sweetly terrible. It seemed to turn my heart into a little portable speaker, with all the songs amplified through it. As soon as 'We're So Lost' came on, my heart started spewing heartbreak all through my body like something exploding in a microwave. A few years later I stumbled across an interview with the singer, Buzz Moller – finally, I knew his name – where he said that he wrote that song when he was at the lowest low of his life. And really, the song simply transported me back to 13 years old, lying there like a tenderised steak, full of blood and ridiculous feeling. I think that's all it was: their songs were frank about wanting things, and feeling things, that they reminded you how simple it was to experience longing. 'There ain't nothing you can do about it – let it lie,' he sang in 'I Want My Baby'.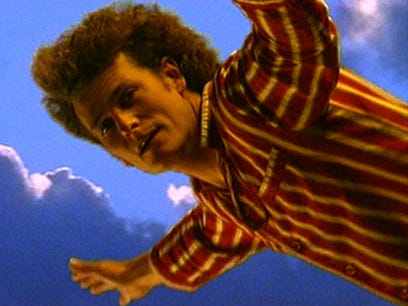 from 'Beth', via NZ on Screen
[The title of this post is from the song 'No Real Reality' from Hello, Are You There (2006)].