Cycling week 20
Saturday
Technically this was last week, but an honourable mention to this hearty ride up to the golf ball. Air very bright and cold. It felt like riding inside a melting ice cube.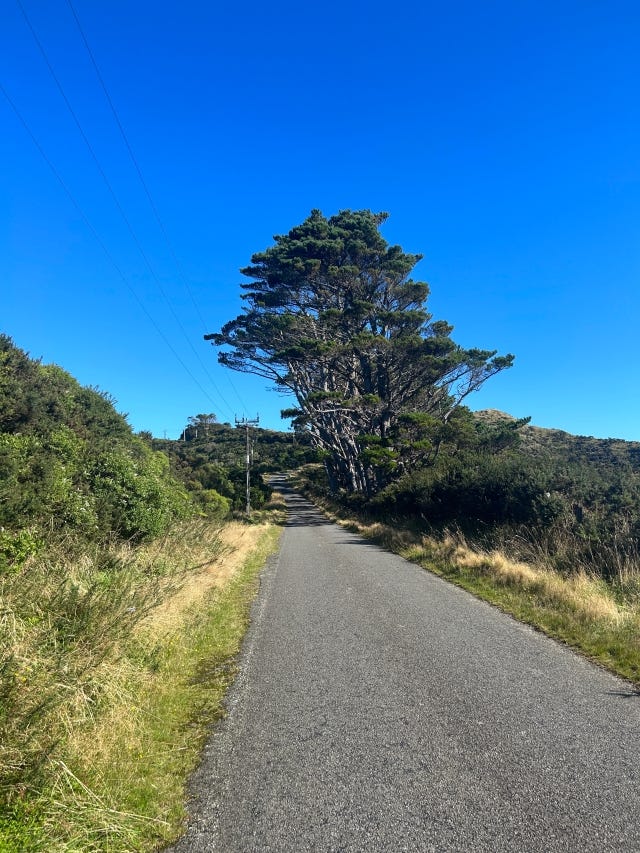 Monday
Set off just after 7. Dark, darkish, then silvery grey. People walking along in suits. A lot of navy blue.
Rode into town at lunchtime into rising wind. The highlight of this ride was that on my way back I went past the musician David Long. The lowlight was riding back up the Terrace.
Rode back into town to the pub. On the way, I had good interactions with two other cyclists about the wind. We all agreed that it was strong. What is a good interaction with another cyclist? Generally, it's just agreeing loudly with each other in the few seconds before the light changes. The brevity of the interaction is key, because in most cases it prevents the cyclists from finding out much more about each other's personalities than that they're both cyclists. One of my worst interactions was while waiting at some notoriously slow lights – the bit on Cuba St, heading north, where you must cross Vivian St. Another cyclist and I were sitting there waiting in a dignified silence. Whirring up behind us came a man with a little moustache, riding a huge fancy cargo e-bike. 'Are we having an excellent day today, my fellow cyclists?' he said. I can't remember what else was said as I basically lost consciousness.
Today I also saw the poet Nick Ascroft grinning or grimacing into the wind, on e-bike with child in tow. Yelled 'Nick Ascroft!' When you cross paths with a cyclist you know, you have to yell their full name.
Rode home at night. The wind – snakes alive. But for much of the ride as I hunkered over the bars I felt like I was in a pocket of calm, like being rolled into a little ball inside a hedge in a storm. The rain was cold, fat droplets, all spaced far apart.
Tuesday
Forgot my sunglasses in a glarey morning.
Rode home in the sort of rain that feels like riding through one of those wooden bead curtains that you never see anymore.
Wednesday
Heard another cyclist: 'Ah for God's sake!' as he went down Raroa Rd with a car tailgating him.
I'm having trouble with my pannier. On the whole it's a good pannier – it's an Ortlieb one – but it is always a faff to unhook the front bit of it to convert it from a pannier into a backpack, which is the whole reason I bought it. After watching The Last Of Us, whenever I try to convert the pannier I imagine that zombies are running towards me and if I don't get the pannier converted to a backpack in like three seconds or less, I'll be savaged. I always get savaged. Ortlieb needs to know that they are failing the zombie test.
A lunchtime ride down to Thorndon Quay, a generally bad road to ride. On the way back, at a red light on a steep uphill, a businessman on an e-scooter sidled up beside me. 'Did we really have to stop at the lights?' he asked. I said, 'Haha,' as I thought he was joking. I said it was always good to have a rest and that I was dying (which felt true). The man said, 'Well, I think we could've made it through, don't you?' Then he scowled a bit and I realised he was serious, then the light changed and he zoomed off in the gutter. I did not spend the rest of my ride going over this interaction in my head and wondering if I was crazy.
Exhausting ride home, but some nice wide passes.
Dogs seen out walking today: Bernese Mountain Dog, golden retriever, tan-coloured miniature dachshund (really beautiful and jaunty).
Thursday
It's the morning ride. A city council truck gave me a nice wide berth while passing, but at the same time nearly ploughed into an oncoming car.
Rode into town for a haircut. I always think about Helen Garner whenever I go to have a haircut. And after a haircut, when I go out to my bike, I imagine that the stylist can see me putting my helmet over the new hair and thinking, 'So that was a whole waste of time.' But that is the life of the cyclist's hair: the good moments are over before they've even really begun.
On twitter, saw this clip of a close pass on Adelaide Rd, after which the driver, very gently and reasonably, threatens to run the cyclist over. Watching videos like this puts my whole body on edge. Some of the reactions to them also make me want to claw my face off. Still, I think I'm glad these clips are shared.
A reminder, via Eamonn Marra below, that feedback on Kilbirnie connections is still open, until 5pm Monday March 27.
https://twitter.com/eamonnmarra/status/1638660068366495744
Friday
The only ride really worth mentioning today – and there were so many rides – was the ride home at night after going to a poetry reading. The ride only took about 35 minutes, but if we think of time as a sort of carriage, then each of those minutes seemed to man-spread outrageously. These minutes simply would not get out of the way. I kept entering a steeper bit, a darker bit, a more boring bit of the road. There was a moment when I appreciated the beauty of yellow and white markings on the road contrasting with the tiny purply flowers on the bank alongside, lit up cinematically by my headlight, but then it was over. I left my body, travelled to a parallel universe in which I had never gone out to a poetry reading and was eating toast at home, and in this universe I didn't ride a bike at all and I had a big ute and I was always doing home reno and talking about drains and air vents. Then I returned, and I was still riding up the same bit of a hill.